---
Samuel Cody
---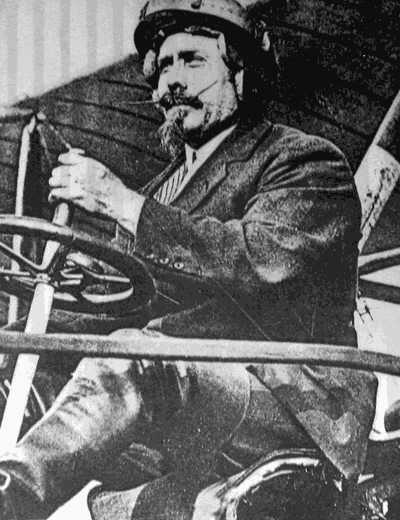 "In 1908 Cody turned his attention to building a heavier-than-air flying machine. After much work, testing, criticism, and scepticism, he designed and built a large aircraft of wood, metal, fabric, and a fifty-horsepower French engine. On the morning of October 16, 1908, near Farnborough, Cody flew it a quarter mile in what is recognized as the first powered sustained flight in Britain. Cody is to England what the Wright brothers are to the United States. Over the next five years, with much experimentation and numerous crashes, he developed additional planes including a biplane, a monoplane, and a seaplane. His biplane, Cody's Flying Cathedral, was then the largest plane in existence. He taught himself to pilot all of his planes, and he set a world record of forty miles for a cross-country flight, won the British Empire Michelin Cup contest in 1910, and won both the British and International divisions in the military airplane trials in 1913, in spite of the fact that he wrecked the plane he was planning to fly four weeks before the trials. Undaunted, he built a new plane from the parts of former planes.
"Cody continued flying in spite of many accidents, always aware of the dangers and risks involved. In August 1913 his Cathedral VI broke up in the air and crashed. More than 50,000 people attended his funeral and burial in the Military Cemetery southeast of London. Known as the father of British aviation, Cody was awarded the silver medal by the Aeronautical Society for his services to aeronautics. His work stimulated public interest in aviation and led to the formation of the Royal Flying Corps and the Royal Naval Air Service."
BIBLIOGRAPHY: G. A. Broomfield, Pioneer of the Air: The Life and Times of Colonel S. F. Cody (Aldershot, Hampshire: Gale and Polden, 1953). Arthur S. G. Lee, The Flying Cathedral (London: Methuen, 1965).